TOPUP via PAYPAL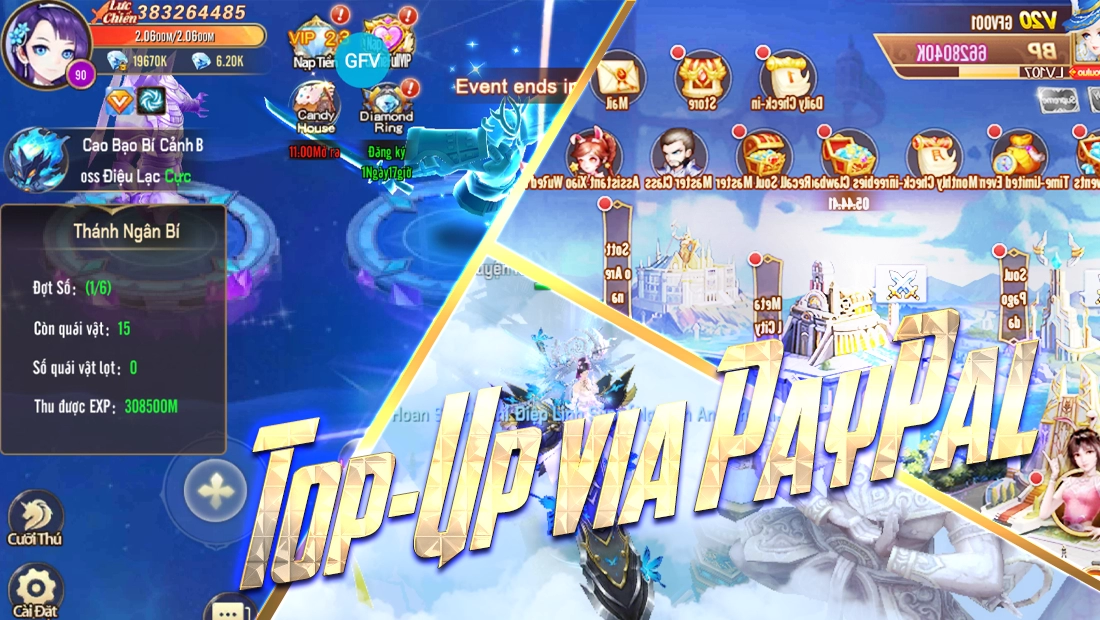 Hello,
GameFullVIP supports "PayPal" and "Mobile CARD" top-up! This tutorial is only for "PAYPAL"!
If your country doesn't support PayPal, you can buy a Vietnam mobile card (or game card). The full guide and example right here:  "TOP-UP VIA MOBILE CARD"
+ Top-up via Paypal (get 10~35% extra COIN):
en.gamefullvip.com/userinfo/paypal.html
+ Top-up via Mobile Card (no promotion):
en.gamefullvip.com/userinfo/paymentcard.html
-------------
1. How does it work? 
VISA/Mastercard are accepted at GameFullVIP!But right now, it is no longer supported (Gvmt. prohibited transfer overseas)!
So, paypal is a better way for you!
Exchange rate (minimum = 3$):
$10,90 = 230.000 COINs = 700.000 diamonds (*)
(include all fees from Paypal)
And 100% that you will get 10%-25% extra PROMOTION COIN if top-up via Paypal (depending on your VIP level on the website)!  

2. How do I top up my account?
Go to: en.gamefullvip.com/userinfo/ewallets.html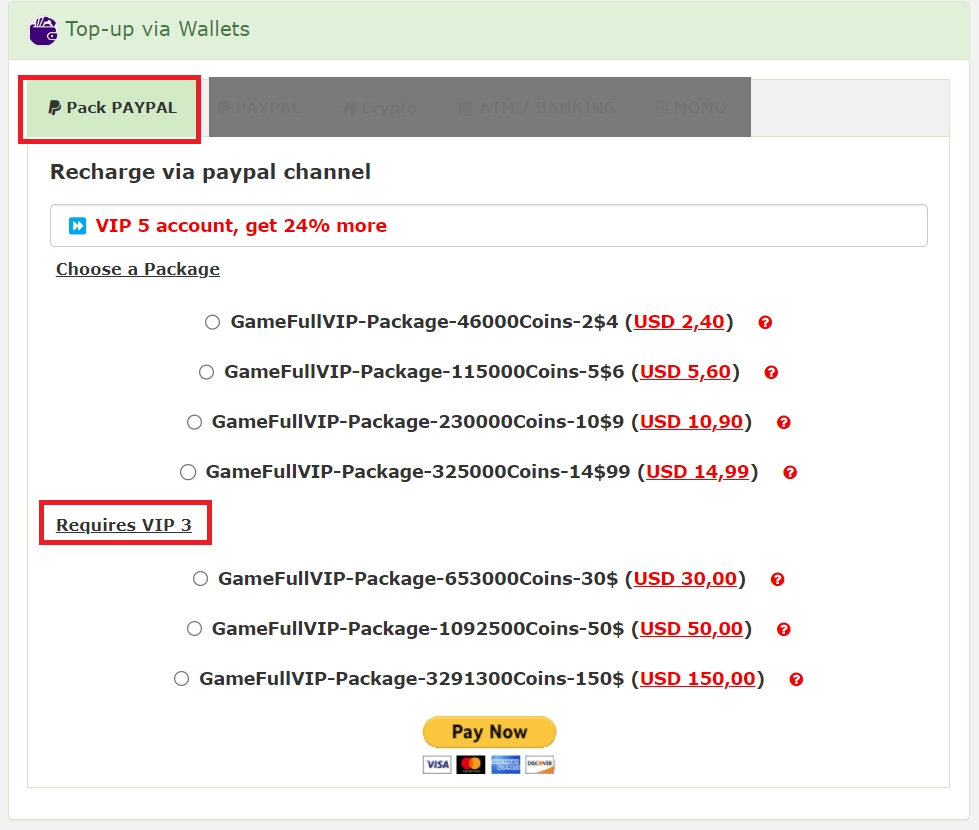 (GameFullVIP also support "Binance Pay" with zero fee, please contact fanpage support)
Our system will automatically check and approve your transaction after 1-3 min!
So your account will get COIN after that intermediately!
----------------
In case "something" wrong with your transaction, just send a message via Paypal, Facebook Fanpage or email. Our customer service will handle it very quickly.
- Facebook fanpage (24/7): https://fb.com/gamefullvip
- Email: [email protected]
Or you can send a text to the number +84 981556428 (+84 is the country's calling code, 981556428 is a phone number). Please contact first through Facebook fanpage (or Discord Group)!
3. How can I refund?
Right now we don't support refunds after 3 days or if you've already spent all your COINs! 
We received a lot of refunds through Paypal, but it was a 100% Paypal close case!For many years, Paypal has already claimed:
"Your claim will not qualify for a refund under PayPal Buyer" in gambling, gaming, items equivalent to cash (game gift cards and pre-paid cards) 
With almost all "digital services" and "game items" PayPal never refunds.
4. How to transfer COINs to diamonds in-game (or Gold = KNB)?
- In the first step, go to en.gamefullvip.com/userinfo/chargecoin.html
You can also check your web wallet!
- COIN: the total of your top-up via Mobile card, Paypal, VISA, Mastercard, etc.
- COIN extra (promotion activity): it works as COIN (nothing different, but it doesn't stack with COIN)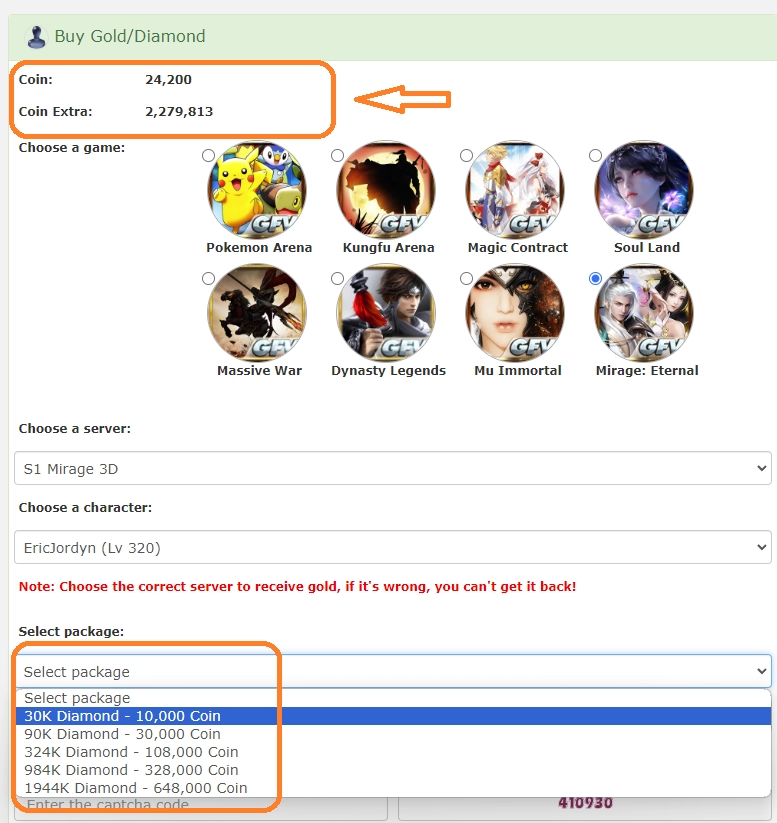 After transfer, please go to the game and check your mail (or game wallet)! Some games need up-to 30 seconds to get the mail.
Some games support "directly buying (in-app purchase)". Just click on the package, and the system automatically decreases COIN and adds diamonds!
Check your "TOP-UP history":
en.gamefullvip.com/userinfo/hispayment.html
Check your "Buy history":
en.gamefullvip.com/userinfo/hischarge.html
5. Explain Paypal Fees
Paypal charges a lot of fees (Tax, Processing, Insurance.... and transaction fee).  Here is an example (the text shows Vietnamese, but it doesn't matter):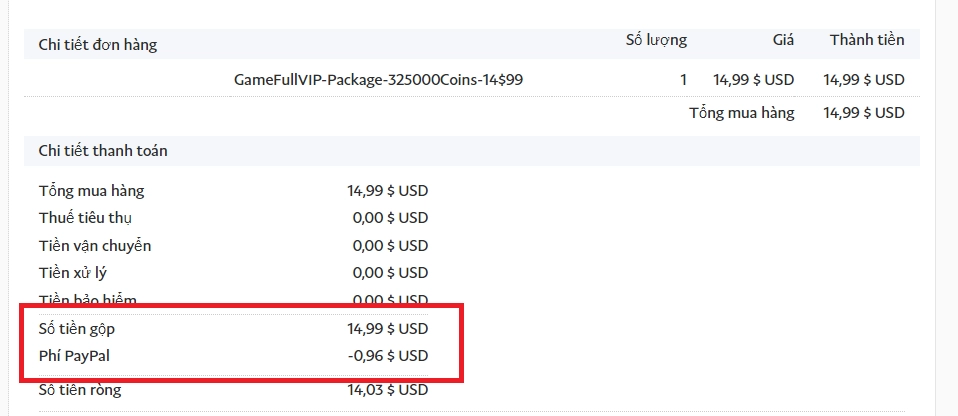 (*): 10,90$ includes a 0,90$ Fee (the real value you can get is 10$ = 230,000 COIN)
The smallest bonus COIN (extra reward) is 10-25%.
Want to know exactly what's happening?
For each transaction, Paypal takes 4.4% + 0,3$ (fixed).
Thank you for your support!