Release Server 54 Magic Contract
Magic Contract 3D  - A vibrant anime role-playing game, including multiple language version and exciting game is set to become a popular destination for both international players and your friends! Join the adventure now and immerse yourself in this colorful RPG world!
The main theme of the game is Mecha and Magic World, brilliant graphics, sharp frame by frame. Get ready to delve into the this world like never before!
Release time: 14:00 - 09.09.2023 (GMT+7)
-----☆☆☆-----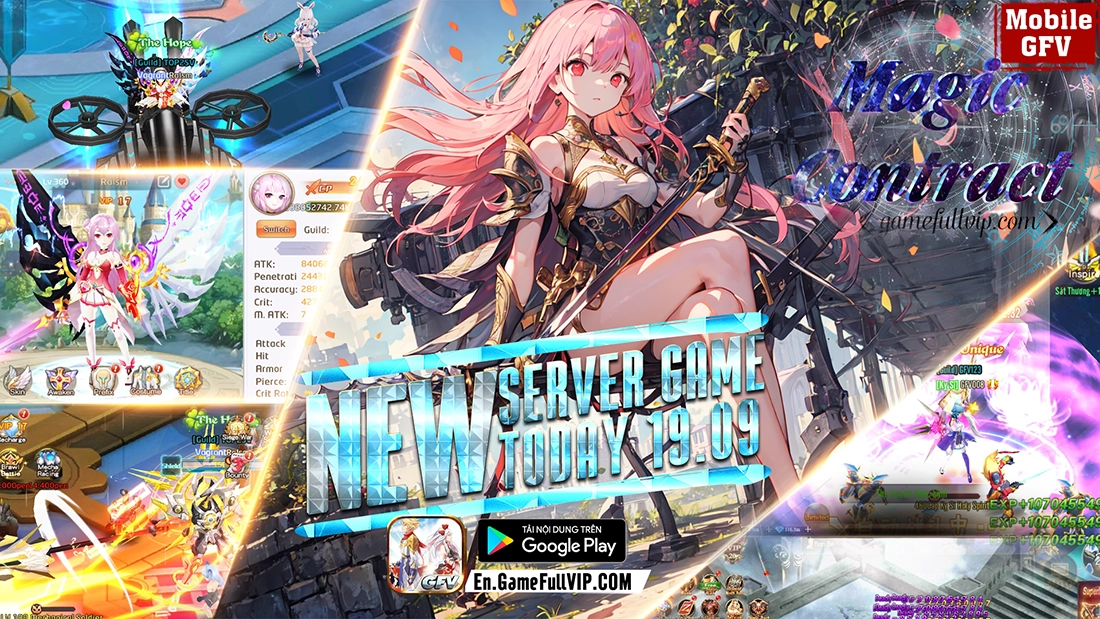 -----☆☆☆-----
-----☆☆☆-----
FANPAGE ACTIVITIES
1. Comment your account name on lasted post
Just comment on your account and a image in-game on Facebook post, and system will send the full guide and gift code to your messenger!
2. Join the Discord server
Or copy: https://discord.gg/HsgMad6MWX
Sometimes the GM (Game Master and Moderator) will organize social activities that will award you with a large number of giftcodes (10k~20k COIN = 30.000~600.000 GOLD). Follow it!

3. Share the post on Facebook or the forum
We always welcome you to recommend the game to forums or Facebook groups, please share the new server post with 3–4 groups!
There are the following requirements:
- The posting/sharing must be approved.
- Group must have over 2,000 members
- Send shared screenshots to the fanpage https://fb.com/gamefullvip
After that, we will send you a gift code: 20K COIN = 60.000 Gold!
-----☆☆☆-----

TOPUP/EXCHANGE GOLD RATIO:
$10 = 230.000 COIN
200.000 COIN = 600.000 Gold
(base ratio, you will get 15-35% extra COIN when topup)
(after TopUp, buy package ingame - game support in-app purchase)
GameFullVIP supports Paypal/Binance Pay and MobileCard: en.gamefullvip.com/views/topup-via-paypal-634.html

-----☆☆☆-----
NEW SERVER FREEBIE:
- Login and get free VIP13 (upgrade your VIP daily)
- Login every can get  "TOPUP CARD  30.000 DIAMOND"
- Daily quest: 444.000 Binding Diamond 30.000 Diamond (non-bind)
- HUNT CROSS SERVER BOSS drop Diamond 
- Activities update weekly
- Event fanpage every week 
Get In-game GIFTCODE?

Click on "BENIFIT" (top-rightcorner, below Daily Quests) >>> Redeem CODE. Just input all of them:
GFVMECH
GFVUPGRADE
GFVSTART
GFV888K
FREETOPUP
GHOSTFEST
GFVTRYHARD
INDEPDATE
UPDATEOCT
UPDATELUNAR