[FullGuide] WUXIA-HEROES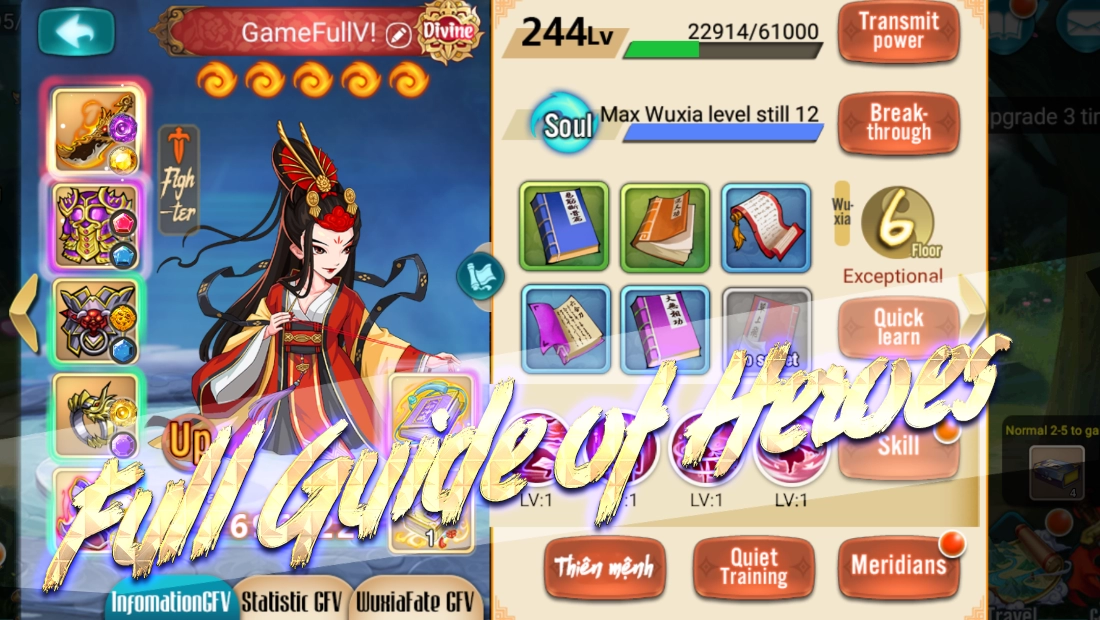 These are the most important components that make the game attractive!
WUXIA/HERO(es)
1. Where to get it?
At level 10, you can access the Tavern and make 10 recruit (advance recruit). GameFullVIP adjusted drop rate is:
- 1% drop rate  (35 heroes = 17%~24% get 1 hero = 200 shards/pieces)
- 4% drop 4 shards of Legendary hero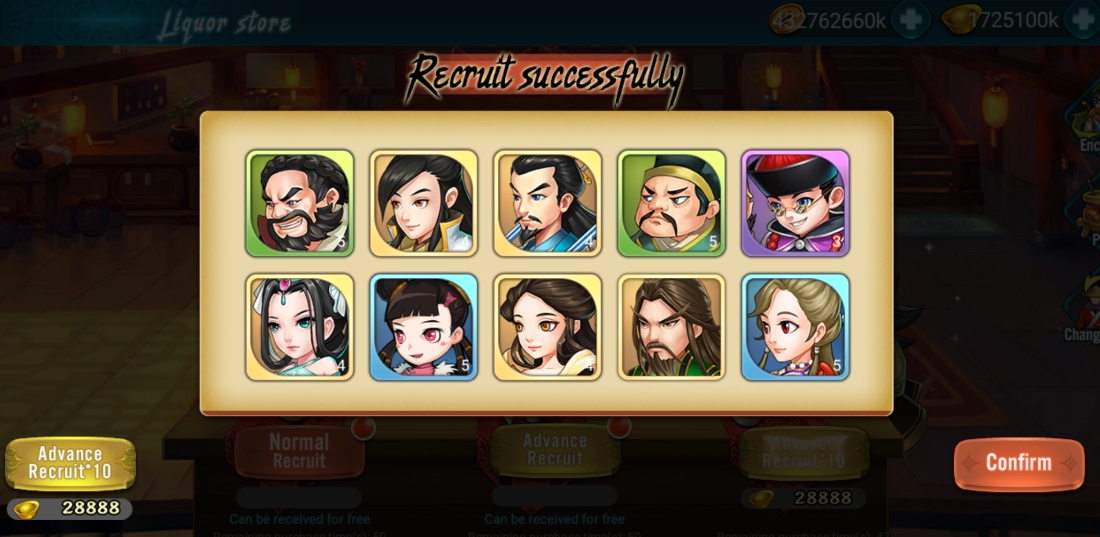 Note:
- On average, you can get 1 hero 4-5 times ( advance recruiting).
- You can recruit ALL Legendary heroes from the tavern (a total of 35 heroes)!
List of them:
Qiao Feng - Duan Yu - Murong Fu - Xu Zhu - Tianshan Tonglao - Wu Yai Zi
Sweep Monk - Wang Yuyan - Li Qiushui - Xiao Yuanshan - Murong Bo - Hu Fei
Ren Woxing - Xie Xun - Daiqisi - Dongfang Bubai - Xiaolongnu - Ren Yingying
Zhang Wuji - Zhu Zhirou - Xiao Zhao - Zhao Min - Yang Guo - Jinlun Guoshi
Lin Chaoying - Zhou Botong - Guo Jing - Huang Rong - Huang Yaoshi - Ouyang Feng
Hong Qigong - Yideng Dashi - Wang Chongyang - Linghu Chong - Yang Dingtian
2. Alternative SHOPs/Events?
You can find wuxia shards in many SHOP (normal, rare, treasure, hero store, PVP shop...)
It's a litte bit expensive than usually, but you can buy up to 200 shards / time. It saves time and is 100% guaranteed to get hero you want.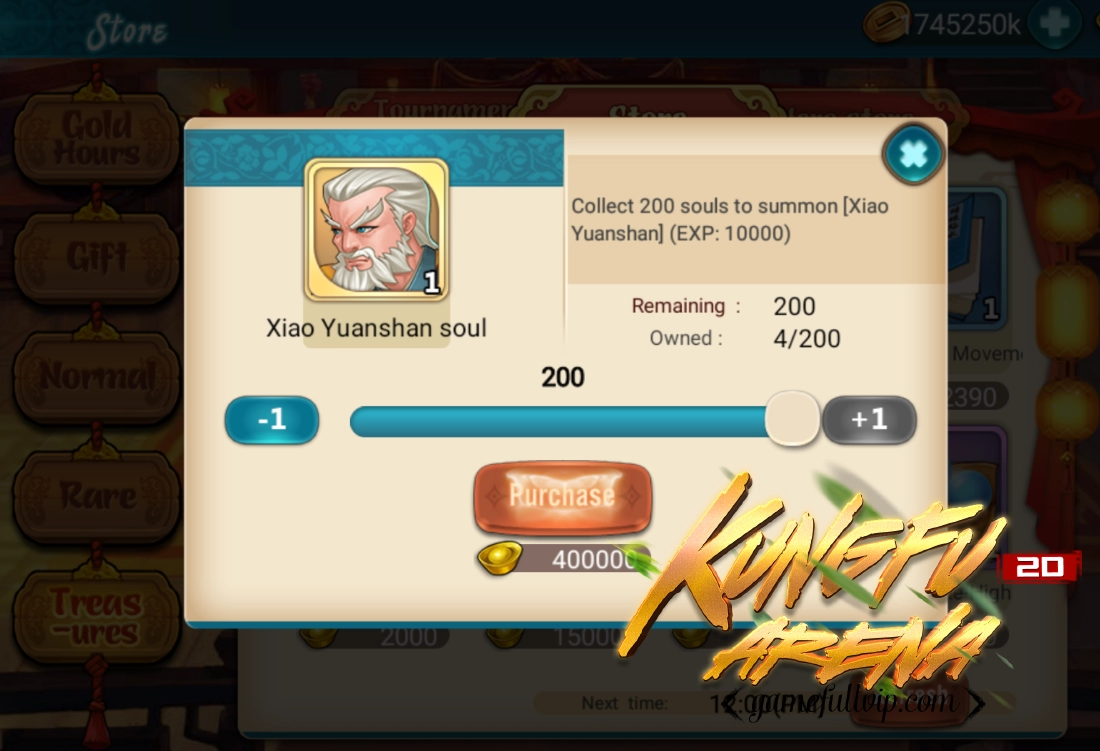 There are also some events that give you lots of hero(es) shards and UNIVERSAL shards:
- Almighty Soul (Legendary)
- Almighty Soul (Divine - RED)
And you can find them at VIP Level reward (from VIP16~VIP40).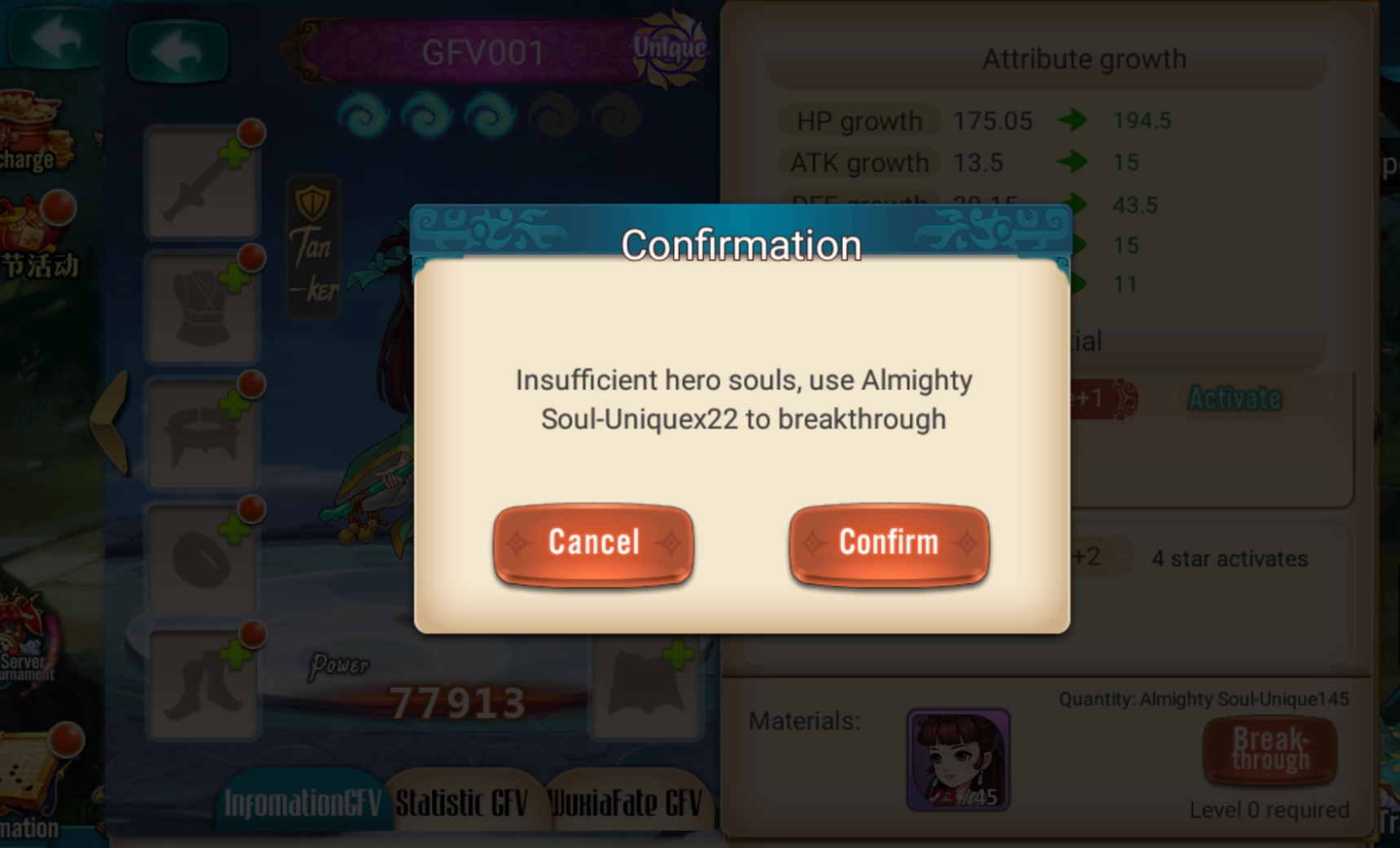 3. I want more DIVINE heroes, how to get it?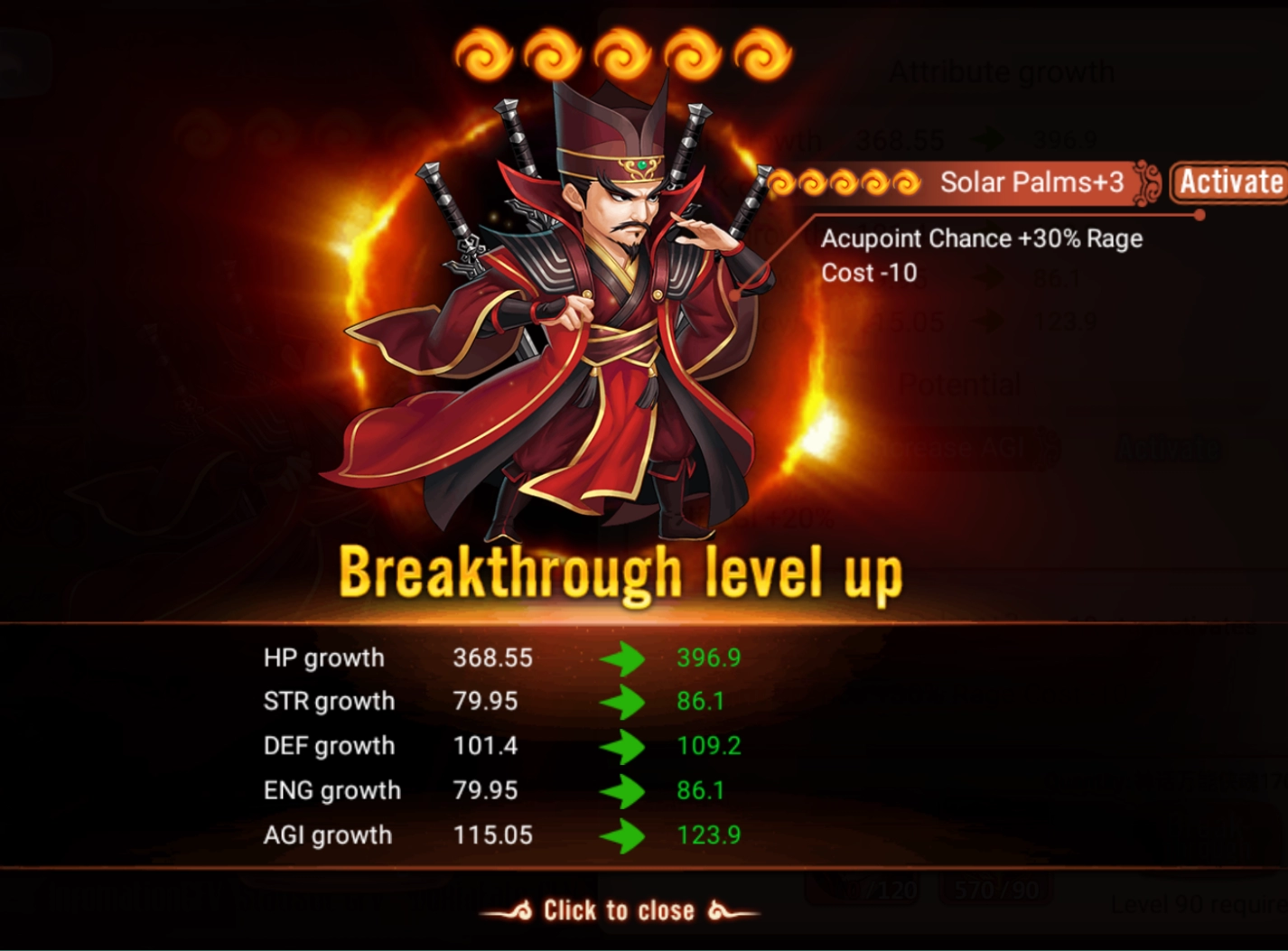 Right now, GameFullVIP is working on translation, it not done yet! Almost all heroes and skills will be completed by February 2023, as planned.
But right now, you can get them:
- Pray in the tavern for 14 days, then choose one from four.
- Log in for 12 days to receive one Divine Hero.
Participate in some events to earn Almighty Soul Red (UNIVERSAL shards for Divine Heroes).
It only makes you confused because you cannot understand the SKILL description!
4. Should I enclose (or eliminate) any Legendary wuxia?
NO, don't do that! Almost Legendary hero can upgrade to Divine quality (Red grade).
Each month, GameFullVIP will upgrade 2-3 heroes to Divine quality and introduce 1 new Divine hero.
And in level 590, a new function called "Travel" (Journey) becomes available; it requires two battle teams, so you'll need at least 10 heroes!
Some Cross Server activities require 7 heroes on your team!Prepare 10~14 heroes; it'll be good for you.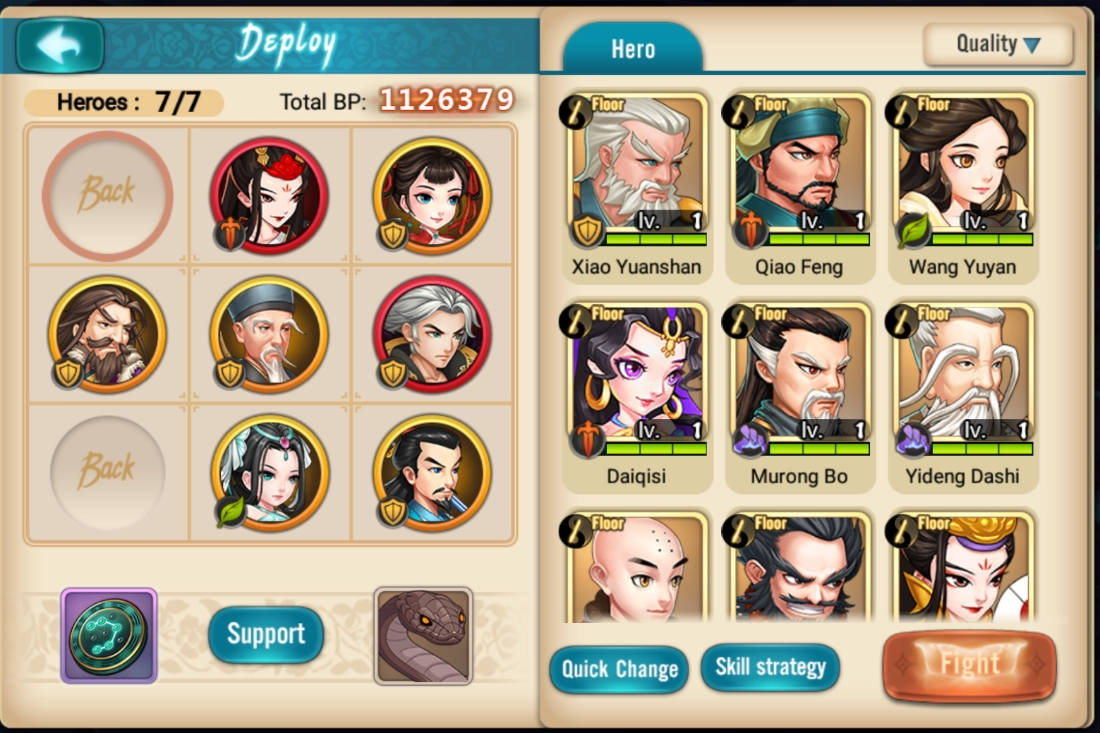 5. How do I upgrade to a Legendary hero or higher quality?
There are few require with Main character: 
1. 5 star
2. Pass the 10th Floor of the Strange Gate (bagua or pakua)
3. Resource (Hero Stone, Main Hero Soul...)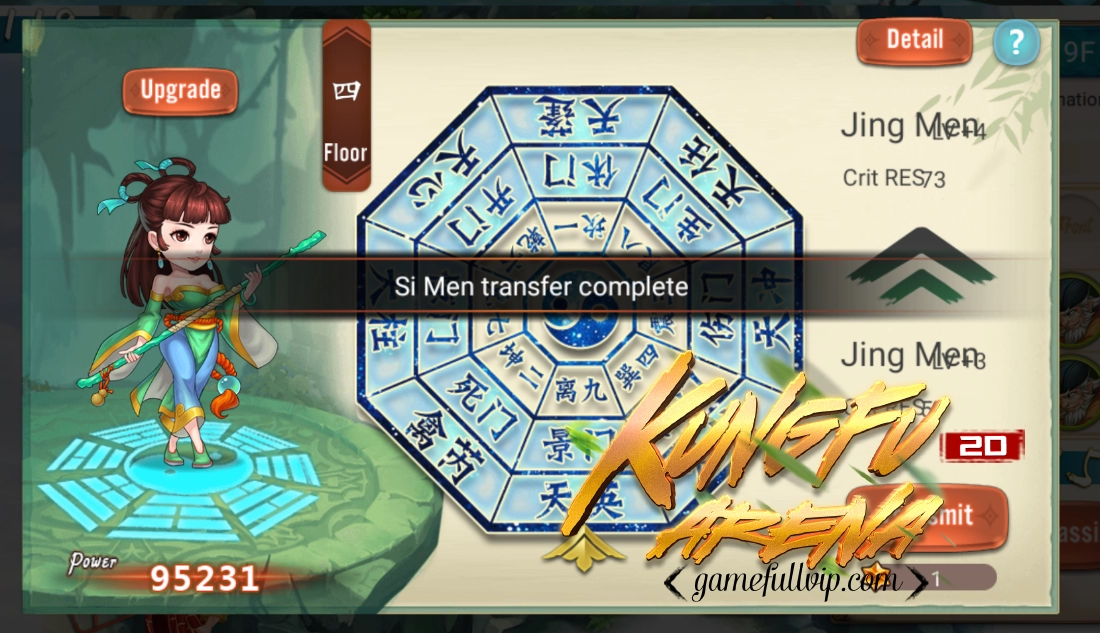 With Legendary hero, you need:
1. Hero must be 10 star
2. Hero Stone (legend and divine)
3. The soul of hero
4. 300 Blood Soul (available in activities)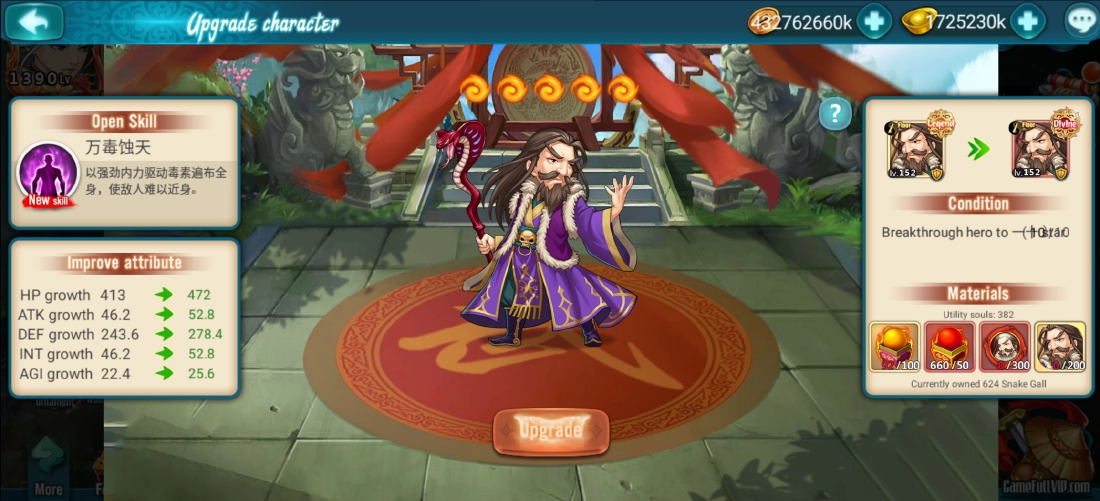 Note:
- You can use "Snake Blood" (universal blood) for Hero Blood.
After the upgrade, the new quality is Divine, and the hero can get a new skill. His/her maximum star will increase to 15  (or 20 stars, depending on the update/patch in 2024).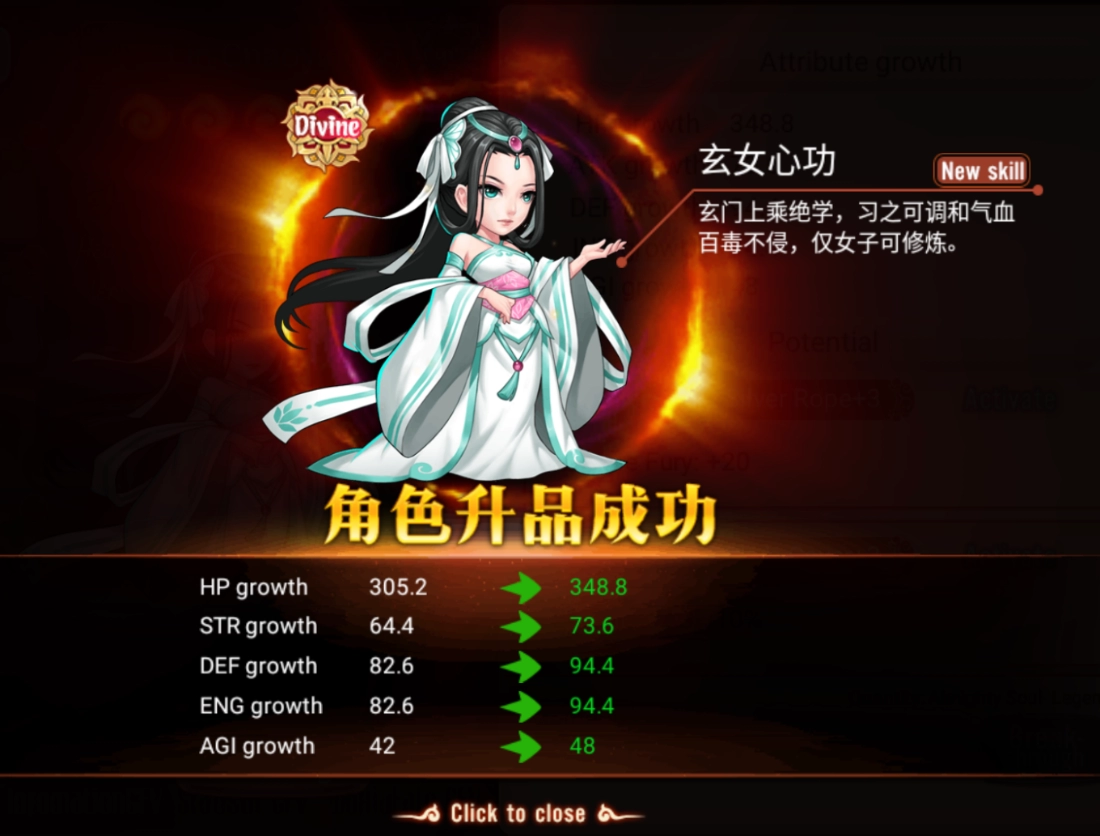 6. More question? Please contact us!
Facebook: https://www.facebook.com/gamefullvip
Discord Server: https://discord.gg/HsgMad6MWX
(Discord for chatting only, if you need support 24/7, contact the Facebook fan page.)