Release Server 23 - MU Immortal Legend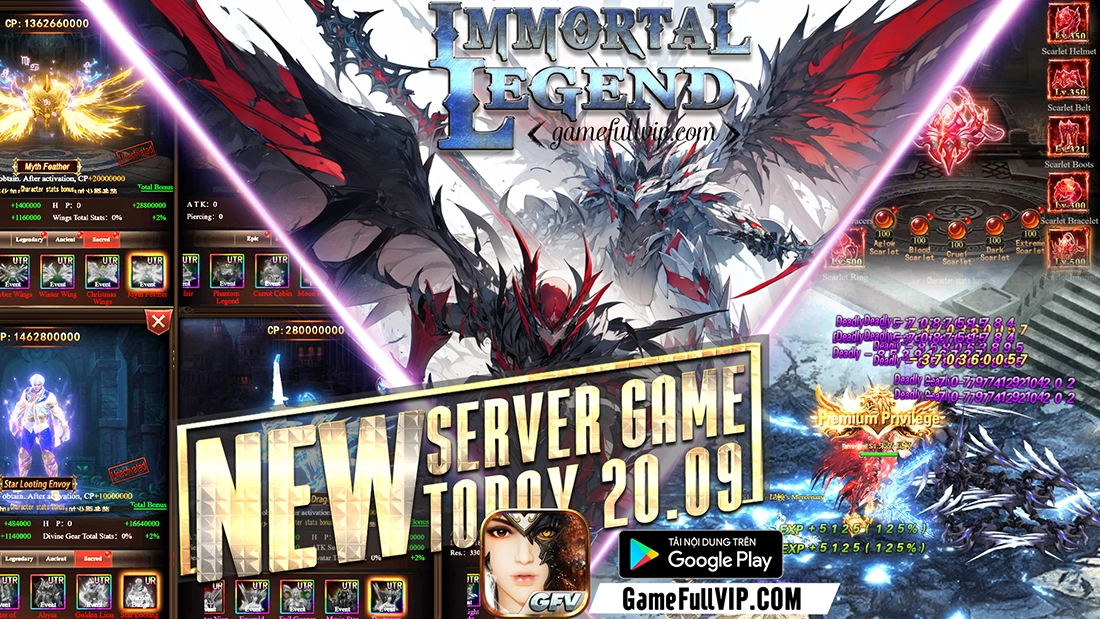 Join MU Immortal Legend: Idle RPG the free-to-play fantasy RPG based on the legendary Continent of MU! Feel the power of forbidden magic! 

The game levels are designed vertically (on mobile) and horizotal (on PC/laptop) and can be easily played with just one hand, providing players with a relaxing gaming experience.
Explore and fight!
-----☆☆☆-----
Server opening time:
MU Immortal S22: 30.09.2023 (GMT+7 14h)
MU Immortal S23: 10.10.2023 (GMT+7 14h)


-----☆☆☆-----
PLAY NOW:
(on PC/iOS devices)
OR download APK (android):
app.gamefullvip.com/mu-eng.apk
Mirror link: APPCENTER MS
-----☆☆☆-----
 Trailer:
-----☆☆☆-----
More Giftcode:
Fanpage Activities

1. Comment your account name on lasted post
Just comment on your account on Facebook post, and system will send the full guide and gift code to your messenger!
2. Join the Facebook group and the Discord server
Or copy: https://www.facebook.com/groups/nhapvaigamefullvip
Or copy: https://discord.gg/HsgMad6MWX
Sometimes the GM (Game Master and Moderator) will organize social activities that will award you with a large number of giftcodes (10k~20k COIN = 30.000~600.000 GOLD). Follow it!


3. Share the post on Facebook or the forum
We always welcome you to recommend the game to forums or Facebook groups, please share the new server post with 3–4 groups!
There are the following requirements:
- The posting/sharing must be approved.
- Group must have over 2,000 members
- Send shared screenshots to the fanpage https://fb.com/gamefullvip
After that, we will send you a gift code: 20K COIN = 60.000 Diamond!
-----☆☆☆-----
Exchange ratio:
$10 = 230.000 COIN
10.000 COIN = 30.000 Diamond
GameFullVIP support Paypal and MobileCard: https://en.gamefullvip.com/views/topup-via-paypal-634.html
-----☆☆☆-----
Giftcode Web & In-game

Please access: https://en.gamefullvip.com/userinfo/giftcode.html
Find the codes:
GFV-MUFREETOPUP


There are 1 free giftcode that give you the benefits of VIP10 in-game and your first Top-Up reward!
Here is an example: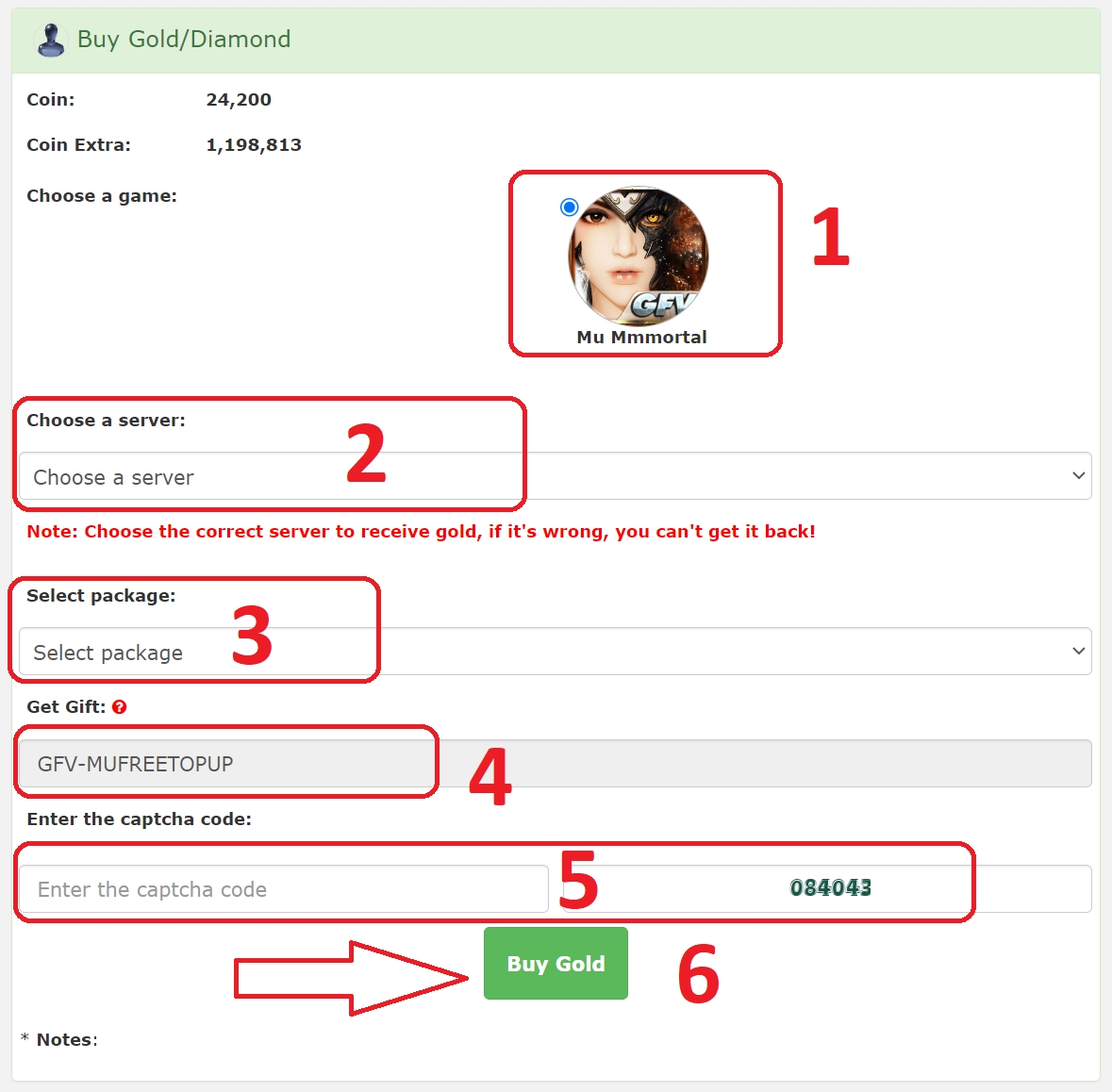 -----☆☆☆-----
Ingame Giftcode
GameFullVIP is working on it right now! Take a note that you can input here: Benifit > CDK > Iput token (redeem code)
Almost all redeem codes are now public; we'll keep you updated in our Discord or Facebook groups!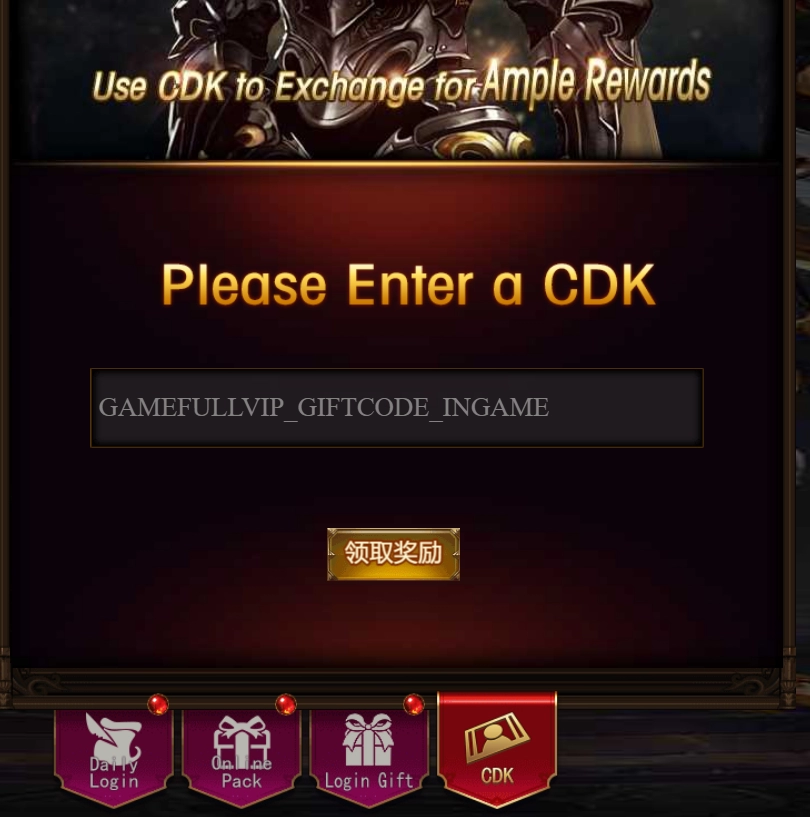 -----☆☆☆-----
NEW SERVER FREEBIE:
- First day login: full 100% first Top-Up ($30 giftcard) and SVIP3 (VIP13) + 1.500.000 Diamond
- 14 days login: total 2,500,000 Diamond and free SVIP5 (VIP15) + FREE TOPUP ($6 Giftcard every day)
- Daily login and quests: up to 120,000 DIAMOND (60k from 1 hour of login)
- Quest give diamond, open more activities (next upate)
- CROSS BOSS (and some limited time BOSS) drop Diamond -for a normal player can hunt BOSS and get up to 300.000 diamond/day (next upate)
 -----☆☆☆-----
QUICK GUIDE:
How do you advance to the level of PRO in this game?
Guide right here: (updating...)
  -----☆☆☆-----
GAME FEATURES:
Server BOSS: GearBoss, ServerBOSS, HomeStead, Golden Demon Lord
CROSS-server BOSS: Boss Template, Warrior Template, Dark Template, Loch Template
Neutral BOSS: WORLD BOSS, Template BOSS, Siege WAR, Scarlet BOSS
Ethereal Realm BOSS with 50 types of BOSS and GOD BOSS
Solo Dungeons: Demon Tower, Daily Trial, Dark Abyss, Extreme Alter
EXP Dungeons: Bloody Land, Demon Fortress
Multiplayer Dungeons: Dragon Castle, Sacred Template, Spirit Gear Realm
Devil Trial Dungeon: Stealth Tower
Eudemon Island...
  -----☆☆☆-----
Cross-Server Guild War
  -----☆☆☆-----
The game supports 100+ types of activities.
Also, there are 800+ skins for characters, avatars, Mercenaries, and Fairies...
 
Thank you for your support!